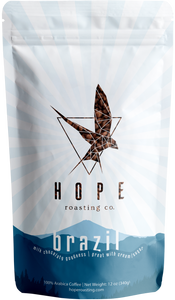 Brazil Alta Mogiana (Wholesale)
Regular price $11.97 Sale
Roasted full city/full city+ (medium dark).
Creamy and slightly nutty notes with a short finish.
Get to know me: I'm a natural-processed coffee, a dry process that leaves the coffee cherry on the bean while it dries and lets the bean absorb some of the flavor and sugars from the fruit.                                                             
Please Note
: To ensure your coffee arrives fresh, we process and roast orders weekly. Orders received by Monday 
11pm
 (EST) will be included in the weekly roast. All orders received after this cutoff will be processed the following week.